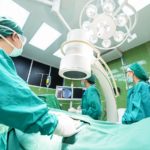 Use of low-dose intraoperative ketamine does not lower levels of postoperative pain or reduce delirium in older adults undergoing surgery, according to a new study led by Michael Avidan, MBBCh, Professor of Anesthesiology and Surgery at Washington University St. Louis and NIDUS co-investigator. The findings from this multi-site randomized trial were published online on May 30 by The Lancet, along with an accompanying editorial by James Eisenach, MD, of Wake Forest School of Medicine. Sharon Inouye, MD, MPH, NIDUS Principal Investigator, was a co-author on the study.
Read more about the study: https://scienmag.com/drug-believed-to-reduce-postoperative-pain-and-delirium-does-neither/
Citation:
Avidan, MS, et al on behalf of the Prevention of Delirium and Complications Associated with Surgical Treatment (PODCAST) Research Group. Intraoperative ketamine does not affect postoperative delirium or pain after major surgery in older adults: an international, multicentre, double-blind, randomised clinical trial. The Lancet. Published online May 30, 2017.