If you have a delirium or other research-related event you would like to have listed on this page, please contact us.
Jun
16
Sun
2019
American Delirium Society 2019 Annual Meeting
Save the Date for the 9th Annual Meeting of the American Delirium Society, June 16-18, 2019.
June 16: Pre-conference day
June 17-18: Full Conference
More information to be announced in Fall 2018.
Visit https://www.americandeliriumsociety.org/conference for more information.
Jun
24
Mon
2019
Application Deadline: 2019 Delirium Boot Camp
Applications for the 2019 Delirium Boot Camp are due June 24, 2019! Applications required as limited space available. Please visit https://deliriumnetwork.org/career-development/boot-camp-application for information. Application does involve submission of a research proposal, so start early!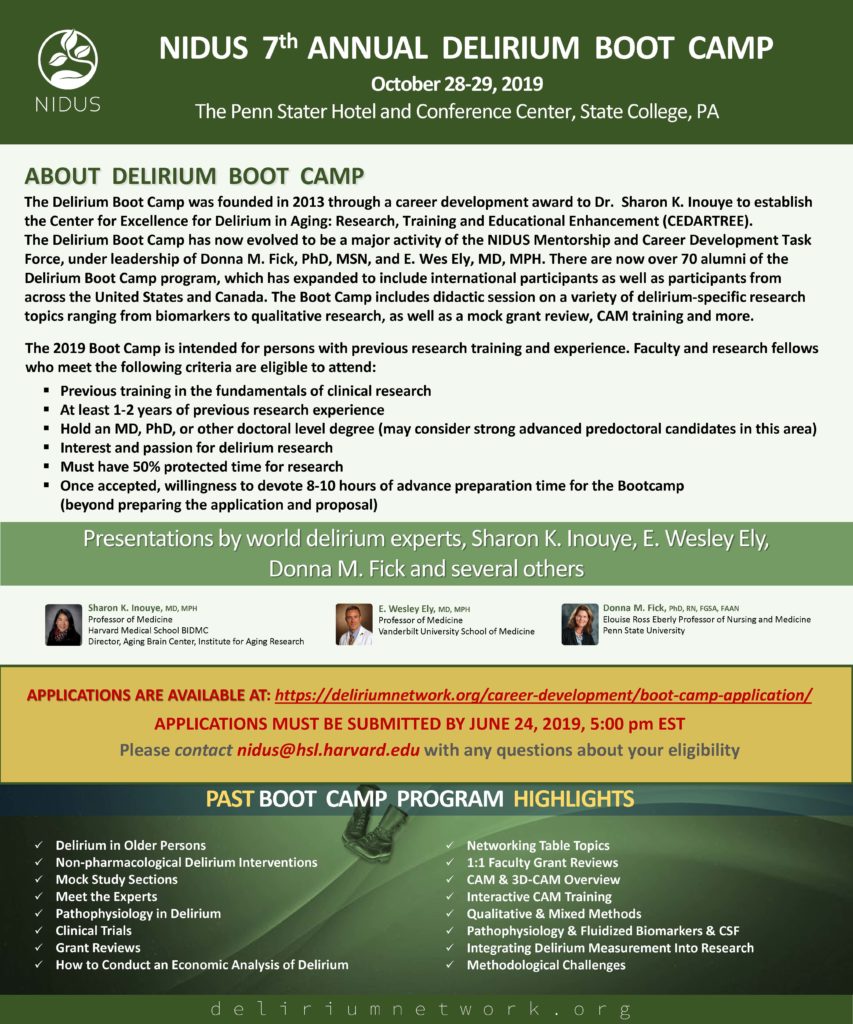 Oct
28
Mon
2019
2019 Delirium Boot Camp

@ The Penn Stater Hotel and Conference Center
Due to limited space, applications are required to attend. Applications for the 2019 Boot Camp will open this spring.
About the Boot Camp
The Delirium Boot Camp was founded in 2013 through a career development award to Sharon Inouye to establish the Center for Excellence for Delirium in Aging: Research, Training and Educational Enhancement (CEDARTREE). The Delirium Boot Camp has now evolved to be a major activity of the NIDUS Mentorship and Career Development Task Force, under leadership of Donna Fick, PhD, MSN, and Wes Ely, MD, MPH. There are now over 70 alumni of the Delirium Boot Camp program, which has expanded to include international participants as well as participants from across the United States and Canada. The Boot Camp includes didactic session on a variety of delirium-specific research topics ranging from biomarkers to qualitative research, as well as a mock grant review, CAM training and more.