If you have a delirium or other research-related event you would like to have listed on this page, please contact us.
Oct
10
Thu
2019
8th Annual Johns Hopkins Critical Care Rehabilitation Conference

@ http://www.hopkinsmedicine.org/pulmonary/research/outcomes_after_critical_illness_surgery/oacis_conference_information.html
There is an early-bird discount available until June 30th, 2019.
For more info, please visit: bit.ly/icurehab
This conference builds on last year's conference, attended by >700 participants from across the US and around the world. The conference offers a truly unique learning experience with multi-disciplinary attendance and speakers – exactly the kind of collaboration needed for successful early mobility/rehabilitation programs in adult and pediatric ICUs.
There are 4 different options offered on October 10 (select only 1; each is all-day):
•Adult ICU Rehabilitation Foundations,
•Pediatric ICU Rehabilitation Foundations,
•Combatting the Hospital Immobility Harm Foundations,
•Recovery of the Critically Ill Patient in Post-ICU Settings (an all-new pre-conference for 2019!).
The main conference, on October 11 and 12, offers all-new content and includes 7 simultaneous workshops for smaller group learning. The conference includes evidence-based content and the "latest updates" on literature over the past year – essential content for developing and implementing early mobility/rehabilitation programs in the adult and pediatric critical care settings.
The attached flyers and the registration website have more details.
We are accepting abstracts submissions for poster and oral presentations until June 30th 2019. The call for abstracts is attached.
Please email icurehab@jhmi.edu with any questions.
We hope to see you in October!"
Oct
27
Sun
2019
2019 Delirium Boot Camp

@ The Penn Stater Hotel and Conference Center
Oct 27 @ 2:30 pm – Oct 29 @ 1:30 pm
About the Boot Camp
The Delirium Boot Camp was founded in 2013 through a career development award to Sharon Inouye to establish the Center for Excellence for Delirium in Aging: Research, Training and Educational Enhancement (CEDARTREE). The Delirium Boot Camp has now evolved to be a major activity of the NIDUS Mentorship and Career Development Task Force, under leadership of Donna Fick, PhD, MSN, and Wes Ely, MD, MPH. There are now over 70 alumni of the Delirium Boot Camp program, which has expanded to include international participants as well as participants from across the United States and Canada. The Boot Camp includes didactic session on a variety of delirium-specific research topics ranging from biomarkers to qualitative research, as well as a mock grant review, CAM training and more.
More information about the Boot Camp and how to apply is available here: https://deliriumnetwork.org/career-development/boot-camp-application/ . Due to limited space, participation is by application only.
Applications are due June 24, 2019.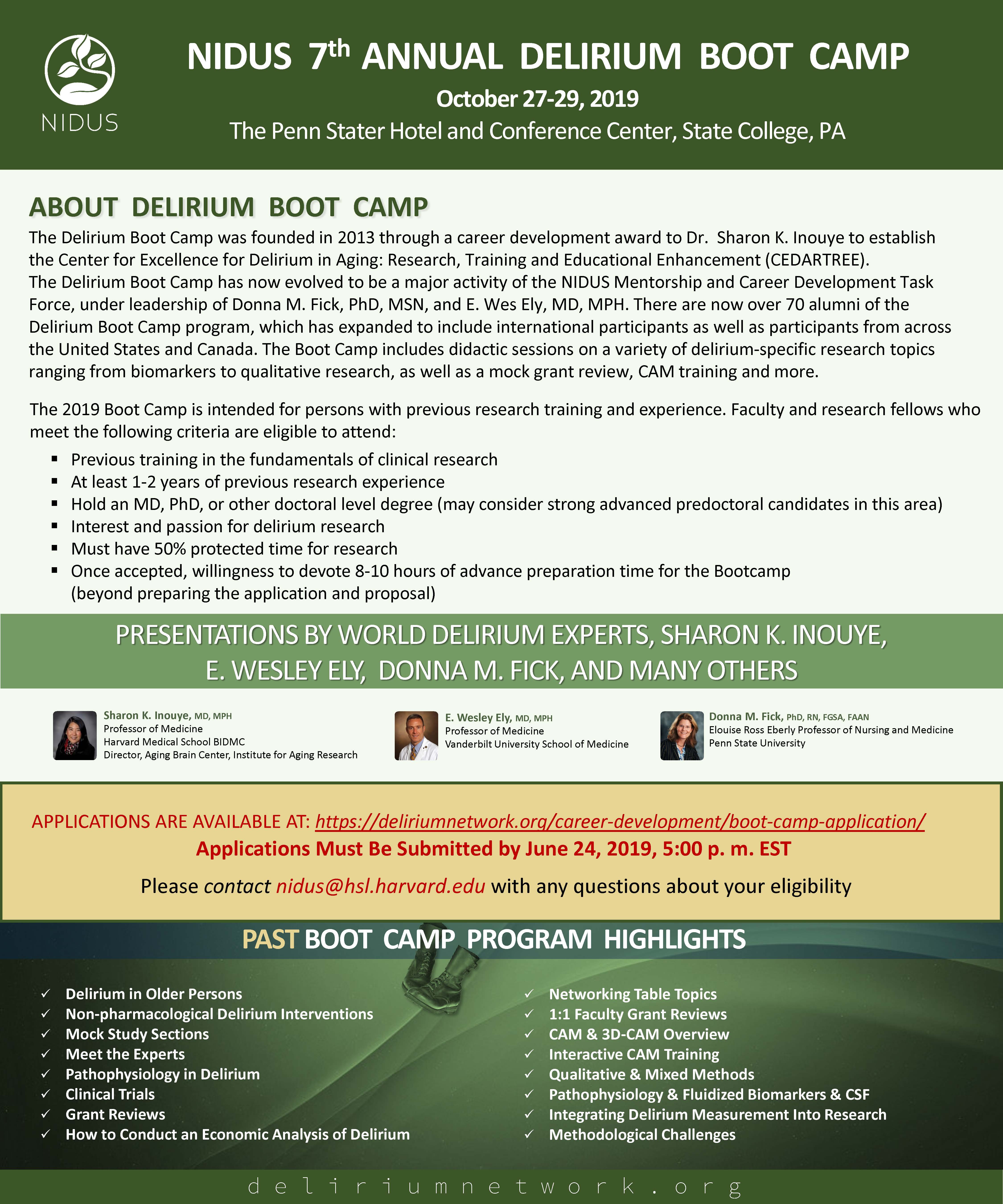 Nov
7
Thu
2019
NIDUS Pilot Grant Application Deadline
2019-2020 NIDUS Pilot Grant Applications due November 7, 2019.
Visit https://deliriumnetwork.org/pilots/ for application information