NIDUS is a collaborative, multidisciplinary network dedicated to the acceleration of scientific discovery in delirium research, through focused collaboration and creation of sustainable infrastructure to enhance innovative and high-quality research.
NIDUS was created in response to a call from the National Institutes on Aging to support a collaborative network to advance scientific research on the causes, mechanisms, outcomes, diagnosis, prevention, and treatment of delirium in older adults.
Learn more about the NIDUS Focus Areas
Recent Posts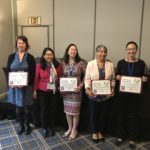 Contributed by Heidi Lindroth, PhD, RN, Postdoctoral Fellow at Indiana University School of Nursing and Indiana University School of Medicine, Center for Aging Research Envision […]
Continue reading

Every other month, the Delirium Research Hub selects an investigator and research study included in the Delirium Research Hub to feature as a Spotlight Investigator. […]
Continue reading
Stay up to date with NIDUS!
Sign up for our email list to receive our newsletters and occasional program announcements