NIDUS is a collaborative, multidisciplinary network dedicated to the acceleration of scientific discovery in delirium research, through focused collaboration and creation of sustainable infrastructure to enhance innovative and high-quality research.
NIDUS was created in response to a call from the National Institutes on Aging to support a collaborative network to advance scientific research on the causes, mechanisms, outcomes, diagnosis, prevention, and treatment of delirium in older adults.
NIDUS II Pilot Grant Information Session (09/09/21)
Learn more about the NIDUS Focus Areas
Delirium Research Hub by the Numbers
Recent Posts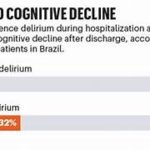 Contributed by Thiago J. Avelino-Silva, MD, PhD*; Flávia B. Garcez, MD, PhD* *Faculty of Medicine, University of São Paulo, São Paulo, Brazil Delirium results from an intricate combination of dozens of possible predisposing and precipitating factors1. Older age, functional dependence, and preexisting cognitive impairment are key determinants for its occurrence, but the latter is a […]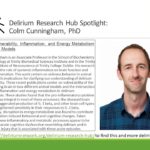 Every few months, the Delirium Research Hub selects an investigator and research study included in the Delirium Research Hub to feature as a Spotlight Investigator. This month, we are featuring Dr. Colm Cunningham for his study "Brain Vulnerability, Inflammation, and Energy Metabolism in Animal Models". His research focuses on the role of systemic inflammation on […]
Stay up to date with NIDUS!
Sign up for our email list to receive our newsletters and occasional program announcements