This post was contributed by Deborah D'Avolio, Ph.D., BC-ACNP, ANP, Associate Professor, Florida Atlantic University
The following case study illustrates an example of how delirium can occur in a hospitalized older adult. Mrs. R is a 68-year-old, Italian speaking woman. She was admitted to the oncology unit for ongoing treatment of advanced uterine cancer. Mrs. R lives alone in her home. She is able to maintain daily activities and has an active social life. Mrs. R's daughter lives nearby and visits her intermittently throughout the week.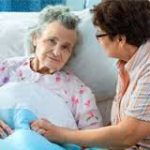 Forty-eight hours after admission, the nurses reported that Mrs. R was not sleeping, restless, distressed, crying intermittently, and "shaky". For the past several hours, she had been having frequent loose stools. In addition, the staff reported that she was talking loudly in Italian when no one was in the room. The only intervention that seemed to help Mrs. R allowing her to drive up and down the corridors in her wheelchair. Translation services was called several times to help assess Mrs. R. Each time she was interviewed with the assistance of translation services, she was found to be disoriented and confused.  The nursing staff tried several non-pharmacological strategies to help decrease her confusion none of which helped. Haldol was ordered. It did not relieve her symptoms.

The geriatric nurse specialist was called for consultation. Her assessment revealed the following data: Temperature 98.6, pulse 102, blood pressure 112/68mm Hg. Her lung sounds were clear bilaterally, oxygen saturation 96% on room air; skin turgor poor, abdomen soft and non-tender, bowel sounds hyperactive in all quadrants. Mrs. R was speaking loudly in Italian, restless, agitated, crying and rocking back and forth. With the assistance of translation services, it was found that Mrs. R was incoherent, unable to answer questions and could not follow simple instructions. A Mini-Mental State Examination (MMSE) could not obtained. The Confusion Assessment Method (CAM) was administered and Mrs. R was CAM positive.

Mrs. R's delirium and behavior of crying out, confusion and restlessness was markedly different from her usual behavior. The geriatric nurse specialist began to suspect pain as a possible cause of the delirium. Prior to the onset of delirium, her pain scale was negative. The geriatric nurse specialist assessed Mrs. R using an observational pain scale which was positive. She contacted Mrs. R's daughter to obtain a history and a review of the medications she took at home. It was discovered that Mrs. R had been using a Fentanyl patch at home to for treatment of her uterine cancer.  Upon physical exam, a Fentanyl patch could not be found. A chart review revealed that Mrs. R was not prescribed a Fentanyl patch during her hospitalization. Mrs. R was in Fentanyl withdrawal. IV Morphine was ordered along with a transdermal Fentanyl patch and her symptoms resolved. Mrs. R's delirium was a result of narcotic withdrawal caused by an inadvertent cessation of her pain medication, an error in medication reconciliation during her hospitalization.

Pain in older adults is often under-treated and a common problem and can lead to delirium. There are several tools available to measure pain among older adults who cannot communicate.
There are many barriers to pain management among hospitalized older adults, especially in older adults who have cognitive impairment or are unable to communicate. Language barriers also contribute to misdiagnosis or inadequate pain assessment. Older adults with delirium or dementia are not able to verbalize pain and cannot be assessed for pain using standardized instruments.
Approximately 50% of community dwelling older adults and 85% of nursing home residents experience consistent pain. More than 80% of older adults have conditions that are associated with chronic pain.   Chronic pain in older adults, especially those with cancer, may be managed with narcotics. Pain assessment begins with self-report. When that is not possible, there are several tools available to measure pain among older adults who cannot communicate. The strength of these tools is their ability to quickly and reliably assess for pain. They are not a substitute for a comprehensive assessment, patient history and a physical exam to assess the etiology of pain.
We often think about polypharmacy as a cause of delirium among older adults. However, in this case, further investigation was warranted to determine possible causes. The daughter was contacted to review Mrs. R's history and medications. The cause of delirium was found to be acute withdrawal. A careful review of medications during transitions of care is essential. Transitions of care, even transition from home to hospital, can increase the likelihood of errors and missing information.
In Mrs. R's case, the combination of a transition of care, language barrier, an error in medication reconciliation, and inadvertent cessation of Fentanyl, all contributed to her delirium. Family caregivers, like Mrs. R's daughter, are an underutilized resource and can collaborate with clinicians in delirium prevention. Family caregivers have important information regarding their older adult's history and medications, which older adults may forget during the anxiety of a hospitalization. As we continue to understand delirium, it is important to include family caregivers in the plan of care and provide education about the risk factors and prevention of delirium. Mrs. R's delirium cleared and she recovered sufficiently to return home with supports in place.