Contributed by Heidi Lindroth, PhD, RN, Postdoctoral Fellow at Indiana University School of Nursing and Indiana University School of Medicine, Center for Aging Research
Envision this future for those hospitalized with an acute illness. Early mobilization is the standard of care. Patients use in-bed cycling and play interactive Wii games to maintain strength and recover from their illness. Music, virtual reality, and even robotic pets are at the hospital bedside to soothe and protect the patient and prevent delirium. Families and the clinical care team partner with advanced technology such as digital avatars, coaching and empowering patients to engage in their care and recover faster. This team diligently watches for symptoms of delirium and uses non-pharmacologic measures, like those mentioned above, as well as promotes the wearing of hearing aids and eye glasses, re-orientation, and sleep maintenance, to prevent and manage delirium symptoms.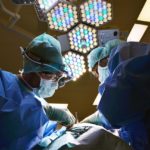 This is not a fantasy – it is the potential future presented at the 2019 American Delirium Society (ADS) Annual Meeting, and it is a future that is achievable.
Darrel Raikes, an ICU survivor and patient advocate, accentuated the desperate urgency of this future at the 2019 American Delirium Society Pre-Conference, anticipating important, upcoming conference topics. Raikes brought the stark reality of delirium and critical illness to life as he recounted his terrifying experiences of delirium and memories of his ICU stay. His authenticity and compassion were galvanizing. His story illustrated the urgency and importance of delirium assessment, prevention, and symptom management. Darrel emphasized the power of human touch, communication, and empathy, urging the audience to think outside of the box to change how care is delivered in the hospital.
The 2019 American Delirium Society was filled with cutting-edge delirium research and clinical strategies, delivered by expert delirium faculty to an international audience. Researchers and clinicians presented the most recent scientific findings concerning the biological underpinnings of delirium and touched on neurodegeneration, proteomics, oxidative stress, brain network connectivity, and sleep, to name a few subject areas.
Several sessions provided a synthesis of the evidence for using both pharmacologic and non-pharmacologic methods to prevent and manage delirium symptoms, while others offered promising new innovations such as music, virtual reality, and patient-oriented technology. Implementation of current evidence into clinical practice, and how to navigate practice change, were examined in other sessions. NIDUS (Network Investigating Delirium; Unifying Scientists) efforts and achievements were integrated throughout the conference, with faculty providing important updates on advancements and resources in addition to oral abstract presentations.
A brief blog cannot summarize the comprehensive nature of this conference; however, information and resources are available through oral and poster abstracts at https://americandeliriumsociety.org/annual-conference-archive. ADS faculty presentations will be available for viewing by ADS members soon. If you are not a member, now is the time to become one! See the ADS website for membership information at https://americandeliriumsociety.org/membership.
The NIDUS website, www.deliriumnetwork.org is an excellent resource for researchers, with detailed information on adult and pediatric delirium assessment tools, severity measurement, and webinars. For delirium researchers, there is a large and growing research hub featuring abstracts of nearly 200 delirium studies and contact information for study authors. There are numerous fun and informative tweets at the Twitter hashtag #ADS19Boston, with links to studies and further information.
In 2018, there were whispers of advanced technology and full-scale system implementation of delirium prevention programs. One year later, we have evidence that the future is becoming a current reality. Partnering with patients, listening and engaging with their reality, and designing solutions that meet their needs is integral to not only preventing delirium, but helping those that have experienced delirium. This is truly an exciting time to be part of ADS, NIDUS, and this evolving work.