Contributed by Tatiana Abrantes, BS, Research Assistant, and Annie Racine, PhD, MPA, Postdoctoral Fellow, Marcus Institute for Aging Research, Hebrew SeniorLife
Behind many ill patients suffering from delirium is the selfless and inimitable care by a family member, offering support in a variety of ways, whether physically, emotionally or financially. Consider this hospital scene: a concerned and tired husband dutifully caring for his wife of 62 years, a woman now acting vastly different from the one with whom he had spent most of his life. Since her surgery, he has scarcely left her side, foregoing his weekly poker night and other activities out of fear and guilt of leaving his wife alone. He worries about her physical health and rehabilitation, but he is most distressed by her changes in mood and behavior. He struggles to reconcile the image of his once lively and hospitable wife with the woman before him who easily lashes out, seems confused by his presence, or spends hours in a daze. Sitting by her hospital bed, the husband wonders to himself, will his wife ever return to the person she used to be? And if so, could this happen again? If not, will it get any worse?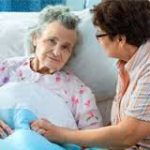 This is just one example based on a participant in the Successful AGing after Elective Surgery (SAGES) study of what it can be like to be a family caregiver of a loved one with delirium. While this story encompasses many common themes, delirium burden is complex, arises from multiple sources, and may vary considerably from caregiver to caregiver. Broadly speaking, caregiver burden can be defined as the multidimensional response resulting from the negative appraisal and perceived stress of caring for an ill individual.1 While concerns with caregiving for patients with chronic conditions like dementia are often focused on the long-term emotional, physical, and economic strains, the acuity of delirium offers new challenges that are not as well examined or understood.2 Hallmark features of delirium, including its rapid onset, fluctuating course and behavioral changes, can cause serious distress to caregivers. The unpredictable nature of delirium makes caring for a delirious patient all the more difficult.
Because of its unique presentation from patient to patient, there may be multiple sources of delirium burden for family caregivers. A study by Schmitt and colleagues identified three major themes of delirium-related burden common among family caregivers – symptom burden, emotional burden and situational burden.3 Symptom burden stems from the caregiver's observation and experience of the patient's delirium symptoms like disorientation or personality changes in which a patient may be unable to recognize their family member or act out of character. Emotional burden encompasses distress from the range of emotions a caregiver may experience ranging from guilt about not spending enough time with the patient to fear that changes in the patient will be permanent. Finally, situational burden refers to distress due to the environment or context in which a patient is delirious, and may include feelings of loss of control regarding appropriate care for the patient or safety concerns because the patient is engaging in dangerous behaviors like pulling at tubes. While these are only a few examples, they illustrate the complexity of delirium caregiver burden. These multifactorial causes of burden also show that the distress associated with delirium extends far beyond its effects on the patient and is felt tremendously by caregivers. Schmitt et al. found that caregivers often expressed that the hardest part of the delirium experience was observing a change in personality of their loved one. These 'in-stranger' experiences of suddenly being with an unrecognizable, yet familiar person during delirium can be extremely unsettling and distressing (https://www.ncbi.nlm.nih.gov/pubmed/25661803).4
Difficult relationships with medical staff, the patient, and even other caregivers can be sources of distress for delirium caregivers. Due to differences in understanding of the patient's needs, disagreements and tension often arise between caregivers and staff.1 Delirium is associated with increased risk of death, and can create particularly difficult experiences for caregivers at the end of their loved one's life. The caregiver-patient relationship can be strained as caregivers experience the loss of a loved and familiar person before their actual death. In addition to feelings of sadness and anger, anxiety can arise from having missed the opportunity for final goodbyes and discussion of end of life care that honor the patient's wishes.5 A sense of community is often a source of security and comfort when dealing with the stresses of caregiving, but some caregivers may experience difficulty with other family members due to feelings of isolation or lack of support. The burden of caring for a delirious patient is further emphasized when caregivers feel that the patient acts differently with other family members, highlighting the strain of deteriorating caregiver-caregiver relationships.6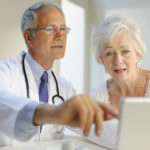 So where do we go from here? How can we improve the experience of family caregiving for patients with delirium? The first step towards lessening the burden felt by caregivers is to better understand delirium burden itself and have proper ways of assessing it. Racine et al.7 tackled this limited research area by developing the Delirium Burden instrument, abbreviated DEL-B, which reliably measures and evaluates the burden of delirium for patients and their caregivers. By acknowledging the subjectivity, acuity, comorbid factors, and varying severity of the delirium burden experience, the DEL-B is a feasible and brief measure for evaluating delirium burden. Another measurement that assesses delirium recall and distress related to the delirium episode is the Delirium Experience Questionnaire, or the DEQ.8 Although these measures have their limitations, the instruments represent progress in the field towards a better understanding and better measurement of caregiver burden. While these instruments focus primarily on acute distress due to delirium, other measures are needed to capture objective aspects of burden such as those related to physical demands and costs of caregiving. Furthermore, because delirium burden may continue to affect emotional, psychological, and physical well-being long after the delirium episode resolves, it will also be important to examine longer-term caregiver burden stemming from the delirium experience.
In addition to advances in measurement, several studies have investigated potential targets for intervention, and some have reported promising results from intervention studies aimed at reducing caregiver burden. For instance, Finucane et al. found that caregivers would like more information about delirium – clearer information about causes, what to expect in terms of progression or treatment, how to reduce delirium recurrence, and how to respond to the patient during a delirious episode and afterwards.9 Another study found that providing caregivers with recommendations for how to soothe a delirious patient (such as providing the patient with a calming environment with quiet music, soothing touch, or familiar surroundings) improved caregiver confidence in decision-making and their ability to care for their loved one.10
The Early Nurse Detection of Delirium Superimposed on Dementia (END-DSD) intervention study found that a caregiver-focused educational brochure proved to be an effective means of offering information to family members.11 The brochure enlightened caregivers on differences between delirium and dementia and thus, also on important differences in care with acute versus chronic illness. It also taught family members strategies they could use to prevent delirium or identify it earlier. The Nurse/Family Caregiver Partnership for Delirium Prevention (NFCPM), an innovative education program that concurrently teaches family caregivers and nurses about delirium and partnering in prevention, has shown to not only improve knowledge of delirium in a feasible way, but also better attitudes towards partnership and participation in decision making, communication and respect.12 These intervention studies and others show great promise for improving the support of caregivers of patients with delirium and reducing their burden. Nonetheless, more work is needed to understand optimal intervention targets and strategies, as are pragmatic trials to determine the feasibility of implementing these interventions on a larger scale.
In summary, delirium occurs in almost half of all older adults admitted to the hospital and 80% of their caregivers are family members. Thus, the imperative need to understand both delirium and delirium caregiving burden is at an all-time high.13 It is critical that we provide care and support not only for delirious patients, but also for their caregivers.
References:
Zarit, S.H., Todd, P.A., & Zarit, J.M. (1986). Subjective burden of husbands and wives as caregivers: A longitudinal study. The Gerontologist, 26, 260-266. doi: 10.1093/geront/26.3.260
Chiao, C. Y., Wu, H.S., & Hsiao, C. Y. (2015). Caregiver burden for informal caregivers of patients with dementia: A systematic review. International Nursing Review, 62, 340-350. doi: 10.1111/inr.12194
Schmitt, E.M., Gallagher, J. Albuquerque, A., Tabloski, P., Lee, H.J., Gleason, L., …Schulman-Green, D. (2017). Perspectives on the delirium experience and its burden: Common themes among older patients, their family caregivers, and nurses. The Gerontologist, 1-11. doi:10.1093/geront/gnx153
Day, J., Higgins, I. (2015). Adult family member experiences during an older loved one's delirium: A narrative literature review. J Clin Nurs, 24(11-12), 1447-1456. doi: 10.1111/jocn.12771
Brajtman, S. (2005). Terminal restlessness: Perspectives of an interdisciplinary palliative care team. Int J Palliat Nurs, 11(4), 170. doi: 10.12968/ijpn.2005.11.4.18038
Greaves, J., Vojkovic, S., Nikoletti, S., White, K., & Yuen, K. (2008). Family caregivers' perceptions and experiences of delirium in patients with advanced cancer. Aust J Cancer Nurs, 9(2), 3-11
Racine, A., D'Aquila, M., Schmitt, E.M., Gallagher, J., Marcantonio, E., Jones, R., & Inouye, S.K. (2018). Delirium burden in patients and family caregivers: development and testing of new instruments. The Gerontologist, 1-10. doi:10.1093/geront/gny041
Breibart, W., Gibson, C., & Tremblay, A. (2002). The delirium experience: Delirium recall and delirium-related distress in hospitalized patients with cancer, their spouses/caregivers, and their nurses. Psychosomatics, 43, 183-194. doi: 10.1176/appi.psy43.3.183
Finucane, A.M., Lugton, J., Kennedy, C., & Spiller, J.A. (2017). The experiences of caregivers of patients with delirium, and their role in its mangement in palliative care settings: An integrative literature review. Psycho-Oncology, 26, 291-300. doi:10.1002/pon.4140
Bull, M.J., Boaz, L., & Jermé, M. (2016). Educating family caregivers for older adults about delirium: A systematic review. Worldviews on Evidence-Based Nursing, 13(3), 232-240. doi:10.1111/wvn.12154
Paulson, C.M., Monroe, T., McDougall, G.J., Jr., & Fick, D.M. (2016). A family-focused delirium educational initiative with practice and research implications. Gerontol Geriatr Educ, 37(1), 4-11. doi: 10.1080/02701960.2015.1031896
Rosenbloom, D.A., & Fick, D.M. (2014). Nurse/family caregiver intervention for delirium increases delirium knowledge and improves attitudes toward partnership. Geriatr Nurs, 35(3), 175-181. doi: 10.1016/j.gerinurse.2013.12.004
Thies, W., Bleiler, L. (2011). Alzheimer's disease facts and figures. Alzheimer's Demen. 7, 208-244. doi: 10.1016/j.jalz.2011.02.004