Applications accepted until July 10, 2023 5pm EST
The 11th Annual NIDUS Delirium Boot Camp, "Advancing Translational and Implementation Research in Delirium" will take place Sunday, October 29 – Tuesday, October 31, 2023 at The Rizzo Center at the University of North Carolina at Chapel Hill, NC. Learn more about the 2023 Boot Camp.
Eligibility Criteria
Please take a moment to determine if you are eligible to attend the Delirium Boot Camp. This Boot Camp is intended for persons with previous research training and experience who plan to continue research in delirium. Faculty and research fellows who meet the following criteria are eligible to attend:
Previous training in the fundamentals of clinical research
At least 1-2 years of previous research experience
Hold an MD, PharmD, PhD, or other doctoral level degree (may consider strong advanced predoctoral candidates in this area)
Interest and passion for delirium research
Must have at least 25% protected time for research
Once accepted, willingness to devote 8-10 hours of advance preparation time for the Boot Camp (beyond preparing the application and proposal)
Please contact Kristen Ruck with any questions about your eligibility or this application in general. There is no fee to attend the Boot Camp. Also, the flights, accommodations, and meal costs related to Bootcamp attendance are covered for each mentee.
Who Can Apply?
While the 2023 Boot Camp theme is Advancing Translational and Implementation Research in Delirium, the program will not be limited to these specific areas. Junior investigators focused on everything from animal model to biomarker to epidemiology to clinical studies to clinical implementation across any patient care setting are encouraged to apply. Applications from outside the USA are encouraged.
About the Boot Camp
The Delirium Boot Camp was founded in 2013 through a career development award to Dr. Sharon K. Inouye to establish the Center for Excellence for Delirium in Aging: Research, Training and Educational Enhancement (CEDARTREE).
From 2016 to 2020, the Delirium Boot Camp was funded by an NIA Network Grant (R24AG054259, PI Inouye), under leadership of Donna M. Fick, PhD, MSN, and E. Wes Ely, MD, MPH.
The NIA has funded the 2021-2025 Delirium Boot Camps (R13185760). The current Boot Campleaders are Jan Busby-Whitehead, MD, MPH and John W. Devlin, PharmD.
Now in its 11th year, the Delirium Boot Camp is open to researchers from a variety of backgrounds, professions and research areas. However, there are a limited number of spots available each year and the application process is selective. Visit the 2023 NIDUS Delirium Boot Camp page to learn more about this year's event.
More than 100 delirium researchers have completed the NIDUS Delirium Boot Camp program. Over the years, it has expanded to include international participants from Canada, Australia and European Union. For reference, please see 2022 Boot Camp brochure.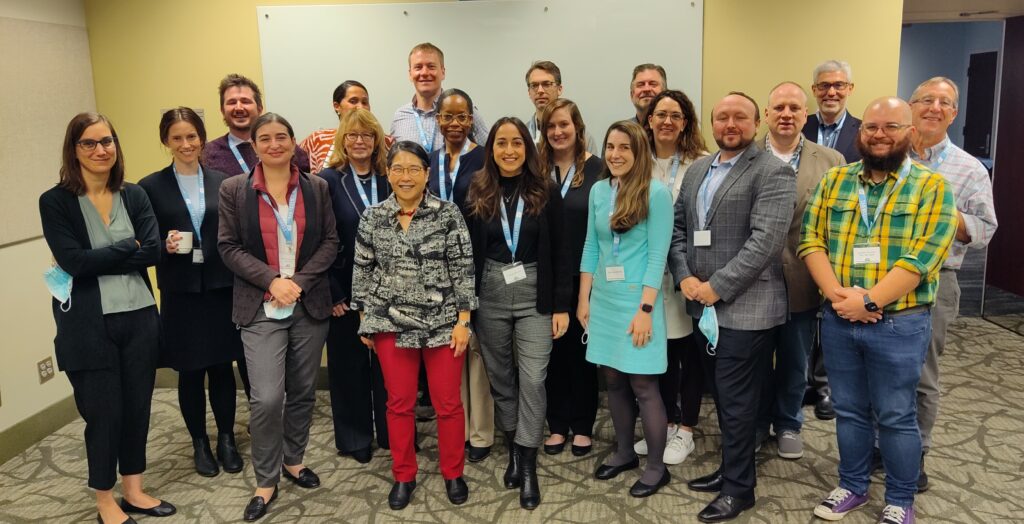 Presentation materials from the 2017-2022 Boot Camps are available on each year's individual page:
Goal
The over-arching goal of the NIDUS Boot Camp is to develop a multidisciplinary pipeline of well-trained translational, epidemiologic and clinical delirium researchers. The Boot Camp offers a mock grant review session, in-depth training on the use , mentoring and networking breakout sessions, and multiple didactic sessions covering a wide range of topics relevant to clinical and translational delirium research.
Organizing Committee
The NIDUS Boot Camp is planned by an Organizing Committee co-chaired by Jan Busby-Whitehead, MD and John Devlin, PharmD. See a full list of Organizing Committee members here.