This post was contributed by Heidi Lindroth, PhD Candidate, RN, University of Wisconsin-Madison, School of Medicine and Public Health, Department of Anesthesiology School of Nursing.
 "…My eyes were open, but what they saw was not real. My delirium was filled with paranoia, fright and joy. In the ICU, I just knew I heard my husband and daughter fighting and then I heard a gunshot. I thought I heard my husband groaning. In actuality, there was a man in the next room groaning, but I thought my husband needed help. I screamed and screamed-calling his name. Someone came in and I do remember them telling me to be quiet, that I was disturbing others. I could not get them to understand that my husband needed help…" This is an excerpt from a blog post by Paula S. Warren on www.artandscienceofdelirium.wordpress.com.1
Delirium impacts approximately 25% of hospitalized elders, 50% of hospitalized adults following their surgery, and 80% of those that are mechanically ventilated in the Intensive Care Unit (ICU).2,3 Unfortunately, 60-70% of patients with delirium are not correctly recognized or treated.3–5 Awareness of this dangerous syndrome is key to recognition, prevention, and therapeutic support. Recently, three delirium societies united to form an International Federation of Delirium Societies, (iDelirium, @iDelirium_Aware, www.idelirium.org)6 that unites a global force of clinicians and researchers fighting to understand why this syndrome occurs and how we can prevent it. As a result, World Delirium Awareness Day (#WDAD2018) was born, and this year it occurs on March 14th, 2018.  #WDAD2018 promotes positive energy around awareness of this dangerous syndrome and spreads the word on how to identify those at risk to prevent this prevent delirium from occurring.
Research on delirium has steadily increased over the past ten years. In 2017 alone, 1,126 research studies were published on PubMed about delirium. Influential leaders have begun to highlight the need for policy change regarding how we care for patients with delirium.7 In the February issue of Journal of the American Geriatrics Society (JAGS), Dr. Sharon Inouye, @sharon_inouye, spotlighted this call to action with her article "A Framework to Improve Acute Care for Older Persons". She highlights the need for leaders in the field to revolutionize the experience aging.8 We need to join the #WDAD2018 and help keep the momentum going!
World Delirium Awareness Day has spurred a burst of activity focused on delirium awareness. In the UK, Dr. M S Krishnan @psychinformatic has created a #icanpreventdelirium National Award for #WDAD2018, a Delirium Awareness Video now viewed by 23,606, buttons, capes, and a 1.75 mile walk today help raise awareness about delirium. Meanwhile, Dr. Roberta E V Castro @robertaevcastro created a workspace for Brazilian intensivists to participate in #WDAD2018 and is promoting tailored information focused on delirium awareness. In Australia, Dr. Meera Agar @meera_agar is paving the way towards delirium awareness in palliative care and submitted a proposal for all the Vice Chancellors in Australia to create a Delirium free Australia by 2020.  These Delirium luminaries are making a difference!
Today is World Delirium Awareness Day, but the time to spread awareness about the importance of delirium is every day.  We must remember how terrifying and detrimental delirium is for those that experience it and work towards prevention, identification, and providing support for anyone experiencing delirium. Today is a day to be positive about how much progress we have made in this field of research and to create forward momentum, making even more progress in the year ahead. Today is the day that all of us become inspired and pledge to do our part.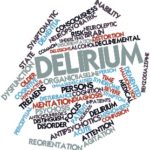 Thank you for participating in #WDAD2018!
References
Art and Science of Delirium. Art Sci Delirium. March 2018. https://artandscienceofdelirium.wordpress.com.

Inouye SK, Westendorp RG, Saczynski JS. Delirium in elderly people. Lancet. 2014;383(9920):911-922. doi:10.1016/s0140-6736(13)60688-1

Oh ES, Fong TG, Hshieh TT, Inouye SK. Delirium in Older Persons: Advances in Diagnosis and Treatment. JAMA. 2017;318(12):1161-1174. doi:10.1001/jama.2017.12067

Rice KL, Bennett M, Gomez M, Theall KP, Knight M, Foreman MD. Nurses' Recognition of Delirium in the Hospitalized Older Adult. Clin Nurse Spec J Adv Nurs Pract. 2011;25(6):299-311. doi:10.1097/NUR.0b013e318234897b

Inouye SK, Foreman MD, Mion LC, Katz KH, Cooney LMJ. Nurses' recognition of delirium and its symptoms: comparison of nurse and researcher ratings. Arch Intern Med. 2001;161(20):2467-2473.

World Delirium Awareness Day 14 March 2018. iDelirium. March 2018. http://www.idelirium.org.

Jackson TA, Gladman JRF, Harwood RH, et al. Challenges and opportunities in understanding dementia and delirium in the acute hospital. PLoS Med. 2017;14(3):e1002247. doi:10.1371/journal.pmed.1002247

Inouye SK. Delirium-A Framework to Improve Acute Care for Older Persons. J Am Geriatr Soc. February 2018. doi:10.1111/jgs.15296