Contributed by Maggie Webb, Research Associate at the Aging Brain Center, Marcus Institute for Aging Research, Hebrew SeniorLife
Delirium is a serious, widespread, and morbid syndrome that is prevalent in many healthcare settings, including inpatient care for hospitalized older adults, post-anesthesia care units and post-surgical care, intensive care units, and the emergency department. Delirium can lead to substantial increased mortality 6 months after ED discharge, with mortality rates at 37% for hospitalized patients with delirium vs. 14% (Han 2010) in non-delirious patients. Delirium also prolongs hospital stays by a median of 2 days and can lead to increases in unplanned hospital readmissions (Kennedy 2014; Rubin 2018).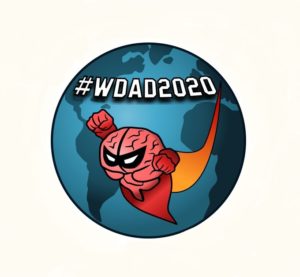 Awareness of delirium by clinical staff, family members, and patients themselves is crucial to diagnosing, preventing, and treating this syndrome. The American Delirium Society, European Delirium Association, and Australasian Delirium Association united in 2018 as the International Federation of Delirium Societies (iDelirium) and have spearheaded the campaign of World Delirium Awareness Day (WDAD). WDAD is an opportunity to spread the word about delirium far and wide, and iDelirium and other delirium societies, researchers, and clinicians have planned many activities to get the word out!
What is the goal of this year's day, #WDAD2020, on March 11, 2020? In addition to spreading the word and general awareness about delirium, this year's theme focuses specifically on prevention. The theme, "Let's Stop Delirium Before It Starts" highlights the critical fact that delirium CAN be prevented, with methods such as the Hospital Elder Life Program, a non-pharmacologic set of interventions that has been proven to prevent delirium in up to 40% of hospitalized older adults. How will you be promoting delirium prevention this year?
NIDUS Overall Principal Investigator Dr. Sharon Inouye shared the story of her father's delirium while hospitalized in a perspective piece for the New England Journal of Medicine. "Could my father's delirium have been prevented? I believe so," said Dr. Inouye.  "Indeed, all the precipitating factors were potentially reversible or remediable. Yet I realized that no one person working alone – not even a delirium expert – can prevent delirium." Through NIDUS and various delirium research projects, Dr. Inouye has called for a reform of hospital care to help prevent delirium, with a strong focus on interdisciplinary team work.
How will you work with your team to make preventing delirium a priority? Take a look at what researchers have planned for #WDAD2020 for inspiration!
International researchers have started #WDADchat, an online Twitter discussion about various delirium topics.
Missed the WDADchat but want to learn more? Peruse the #WDADchat hashtag to see an archive of the discussion!
Many materials that are useful for clinical staff are also relevant for patients and families and can help them better understand delirium.
MS Krishnan and team in Australia have created an accessible, straightforward video about delirium, which you can check out here.
NIDUS will host a Twitter chat and Q&A before #WDAD2020 (March 10) to highlight NIDUS resources and materials. Tune into the chat to ask questions and learn more about NIDUS by following this hashtag: #NIDUSchat.
As we raise awareness during World Delirium Awareness Day #WDAD2020 on March 11 let's also stress that delirium is PREVENTABLE. Our commitment to preventing the potential catastrophic effects of delirium is crucial not only on March 11, but all year!
References
Han JH, et al. Ann Emerg Med 2010: https://www.ncbi.nlm.nih.gov/pubmed/20363527
Kennedy M, et al. J Am Geriatr Soc 2014: https://www.ncbi.nlm.nih.gov/pubmed/24512171
Rubin FH, et al. J Am Geriatr Soc 2018: https://www.ncbi.nlm.nih.gov/pmc/articles/PMC5777876/