NIDUS is a collaborative, multidisciplinary network dedicated to the acceleration of scientific discovery in delirium research, through focused collaboration and creation of sustainable infrastructure to enhance innovative and high-quality research.
NIDUS was created in response to a call from the National Institutes on Aging to support a collaborative network to advance scientific research on the causes, mechanisms, outcomes, diagnosis, prevention, and treatment of delirium in older adults.
NIDUS II Pilot Grant Information Session (09/09/21)
Learn more about the NIDUS Focus Areas
NIDUS Registration
Sign up for FREE NIDUS membership with access to delirium resources
NIDUS mailing list
Sign up for our email list to receive our newsletters and occasional program announcements
Recent Posts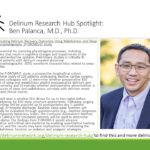 Periodically, NIDUS features a Delirium Research Hub investigator as a Spotlight Investigator. This month, we feature Dr. Ben Palanca and the Protocol for Prognosticating Delirium Recovery Outcomes Using Wakefulness and Sleep Electroencephalography (P-DROWS-E) study.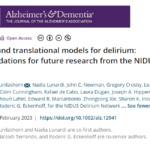 A recently-published NIDUS paper discusses the uses of animal models in delirium research. Published in Alzheimer's and Dementia, the Journal of the Alzheimer's Association, the paper explores topics like the benefits of using animal models in delirium research, the current state of development, and some limitations of preclinical models for delirium and next steps for […]
Delirium Research Hub by the Numbers