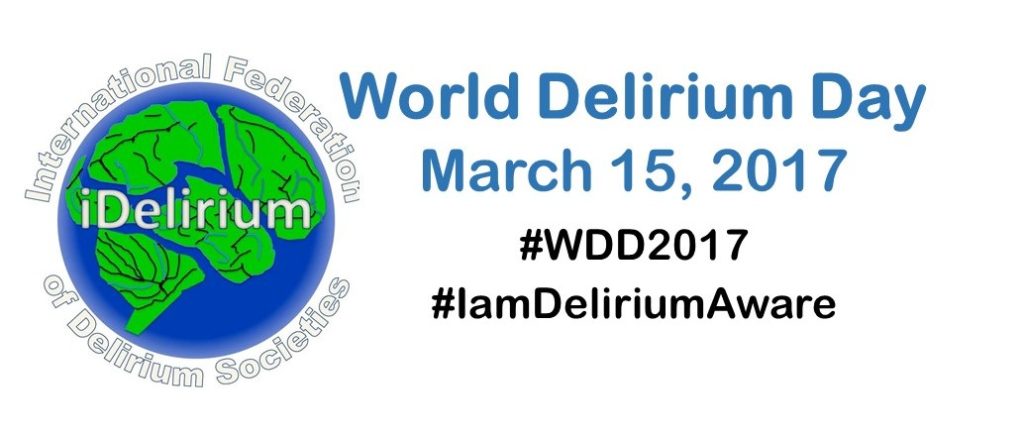 The International Federation of Delirium Societies (I-Delirium) World Delirium Awareness Day – March 15, 2017
The inaugural

World Delirium Day

aims to

raise delirium awareness

and

inspire positive action

among healthcare workers and the community

to prevent, detect early and care for people with delirium, around the globe

. This effort was launch by I-Delirium, the International Federation of Delirium Societies (American Delirium Society, European Delirium Society and Australasian Delirium Society). They suggest 3 steps you can take to be delirium aware on March 15:
Individually:
Test your delirium knowledge by taking our brief challenge!
Locally:
Take positive action in your local healthcare environment to get people thinking and talking about delirium.
Globally: 
Connect with other delirium knowledge champions

at our website (

http://www.idelirium.org/

) and on social media.
 

Join Us on Social Media During World Delirium Day and Share Your Team's Delirium Awareness Activities

On Twitter: Follow @idelirium_aware, #WDD2017 and #iamdeliriumaware

Thunderclap: Join the World Delirium Day Thunderclap to spread delirium awareness throughout the online community. Follow this link to join: https://www.thunderclap.it/projects/53986-world-delirium-day-15-march 
You can also follow NIDUS on Twitter (@nidus_delirium) to find out what we are doing to spread delirium awareness!