NIDUS is a collaborative, multidisciplinary network dedicated to the acceleration of scientific discovery in delirium research, through focused collaboration and creation of sustainable infrastructure to enhance innovative and high-quality research.
NIDUS was created in response to a call from the National Institutes on Aging to support a collaborative network to advance scientific research on the causes, mechanisms, outcomes, diagnosis, prevention, and treatment of delirium in older adults.
NIDUS II Pilot Grant Information Session (09/09/21)
Delirium Research Hub by the Numbers
Recent Posts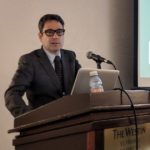 Contributed by Heidi Lindroth, BSN, RN, PhD Candidate, School of Nursing, Program Assistant, School of Medicine and Public Health, Department of Anesthesiology at The University of Wisconsin-Madison The American Delirium Society (ADS) annual conference was held in June 2018 to share the latest advancements in delirium science.  A wide variety of topics from delirium training […]
The NIDUS Pilots and Innovation Task Force is accepting proposals for pilot grants focused on delirium research, due on November 7, 2018. The Pilots and Innovation Task Force has identified three major themes of special interest for the pilot grants below, each representing a research area likely to have broad impact on the field. However, […]
Stay up to date with NIDUS!
Sign up for our email list to receive our newsletters and occasional program announcements