NIDUS is a collaborative, multidisciplinary network dedicated to the acceleration of scientific discovery in delirium research, through focused collaboration and creation of sustainable infrastructure to enhance innovative and high-quality research.
NIDUS was created in response to a call from the National Institutes on Aging to support a collaborative network to advance scientific research on the causes, mechanisms, outcomes, diagnosis, prevention, and treatment of delirium in older adults.
Learn more about the NIDUS Focus Areas
Delirium Research Hub by the Numbers
Recent Posts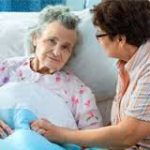 Mary's 86-year-old mother Eileen has been living with her and her family for the past two years. Eileen is a widow with mild dementia. She is pleasant, communicative, and able to perform simple ADLs. Mary's husband and her adult children help provide support, while Mary provides most of the caregiving tasks. Last week Eileen […]
The American Delirium Society held their 6th annual meeting from June 4-6, 2017, in Nashville, Tennessee. Along with excellent talks and poster presentations by many members of the delirium research community, NIDUS was honored to host 2 sessions: 1) a plenary session by NIDUS investigators introducing the program and our initiatives and 2) a scientific breakout session with presentations by previous participants of the Delirium Boot Camp.Continue reading→
Stay up to date with NIDUS!
Sign up for our email list to receive our newsletters and occasional program announcements