NIDUS is a collaborative, multidisciplinary network dedicated to the acceleration of scientific discovery in delirium research, through focused collaboration and creation of sustainable infrastructure to enhance innovative and high-quality research.
NIDUS was created in response to a call from the National Institutes on Aging to support a collaborative network to advance scientific research on the causes, mechanisms, outcomes, diagnosis, prevention, and treatment of delirium in older adults.
Learn more about the NIDUS Focus Areas
Recent Posts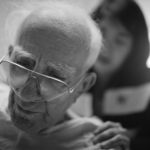 Post contributed by A.M. Barrett, Kessler Foundation Bill hasn't been himself, and his family is very concerned. A retired professor, Bill seemed to do very […]
Continue reading
Consider submitting a symposium, workshop or roundtable proposal, or oral or poster presentation abstract for the 8th Annual American Delirium Society Meeting, June 10-12 in […]
Continue reading
Stay up to date with NIDUS!
Sign up for our email list to receive our newsletters and occasional program announcements