NIDUS is a collaborative, multidisciplinary network dedicated to the acceleration of scientific discovery in delirium research, through focused collaboration and creation of sustainable infrastructure to enhance innovative and high-quality research.
NIDUS was created in response to a call from the National Institutes on Aging to support a collaborative network to advance scientific research on the causes, mechanisms, outcomes, diagnosis, prevention, and treatment of delirium in older adults.
Greetings from Dr. Sharon Inouye!
Learn more about the NIDUS Focus Areas
Delirium Research Hub by the Numbers
Recent Posts
[updated 10/30/19] Applications for the 2019 NIDUS Pilot Grant Awards are due Thursday, Nov. 7 2019. We have compiled responses to some NIDUS Pilot Grant FAQs here to help assist applicants during the process. If you have additional questions or would like further clarification, please contact NIDUS@hsl.harvard.edu. Applicants may also be interested in reviewing the […]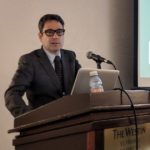 Contributed by Heidi Lindroth, BSN, RN, PhD Candidate, School of Nursing, Program Assistant, School of Medicine and Public Health, Department of Anesthesiology at The University of Wisconsin-Madison The American Delirium Society (ADS) annual conference was held in June 2018 to share the latest advancements in delirium science.  A wide variety of topics from delirium training […]
Stay up to date with NIDUS!
Sign up for our email list to receive our newsletters and occasional program announcements