CEDARTREE/NIDUS Delirium Boot Camp: Nov. 1-3, 2017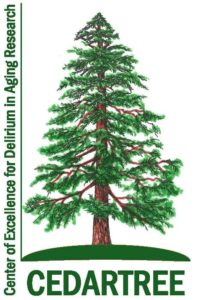 The annual Delirium Boot Camp began in 2013 through a K07 grant from the NIH to fund the Center of Excellence for Delirium in Aging: Research, Training and Educational Enhancement (CEDARTREE), with the goal of advancing research and training in delirium. Now in its 5th year, the Delirium Boot Camp will be co-hosted by CEDARTREE and NIDUS. The Chairs for this year's event are Donna Fick, PhD, MSN, Pennsylvania State University, and Wes Ely, MD, MPH, Vanderbilt University, the NIDUS Mentorship Task Force Leaders. Other participating faculty will include Sharon Inouye, MD, MPH, Ed Marcantonio, MD, SM, Rich Jones, ScD, and Tom Travison, PhD, as well as a number of other respected guest speakers.
The CEDARTREE/NIDUS Delirium Boot Camp will take place on Nov. 1-3, 2017, in Boston, MA. It is open to researchers from any discipline who want to gain expertise in delirium research. The Boot Camp offers a mock grant review, in depth training on use of the CAM, and many other didactic sessions covering a wide range of topics relevant to delirium research. We are happy to announce that a limited number of travel awards will be available to participants this year.
Planning for this year's Boot Camp is currently underway. All information for this year's event, including application information, will be updated on this site when available. Please join our email list to receive announcements about this event.
Login Status
You are not logged in.

Popular topics from past Boot Camps:
Mock NIH Study Section for grant review
Interactive training on use of the CAM, CAM-S and 3D-CAM
Non-pharmacologic intervention for delirium
Use of biomarkers in delirium research
Neuroimaging and neurophysiologic approaches
Methodological challenges in delirium research
Animal models for delirium
Clinical Trials
Hear from past Boot Camp Participants:
 "Vast wealth of knowledge and expertise in room – I felt like I was meeting delirium royalty!" 
Boot Camp 2016 Participant
"It was very helpful to receive feedback on my proposal and to connect with junior researchers with similar interests as myself.  It's always great to expand my network of excellent colleagues."
Boot Camp 2015 Participant
"I gained in-depth knowledge in the most up-to-date delirium research and I was able to network with the fellow researchers in this field.  I felt like all of the sessions were extremely relevant and provided insight."
Boot Camp 2014 Participant